US Open 2022: Spotlight on semi-finalists (mixed)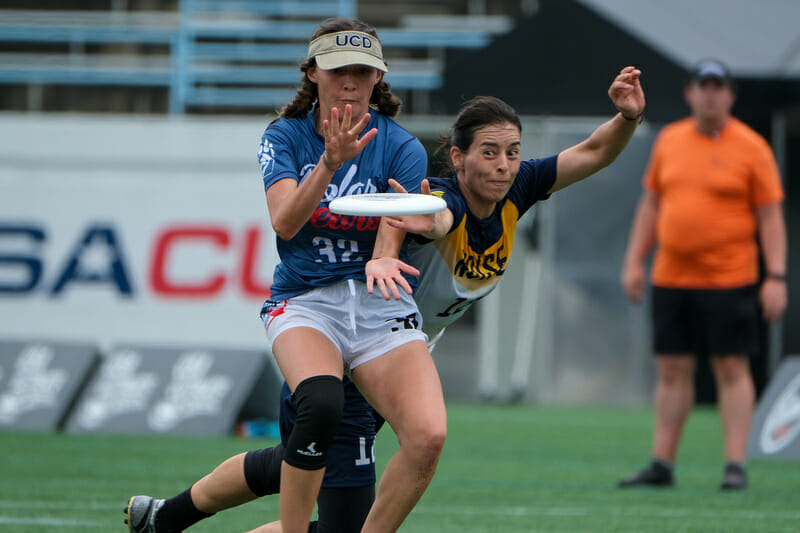 August 7, 2022 by
Laura Osterlund

in Summary with comments
BLAINE, MN. – As you would expect in Minnesota in August, the weather can pretty much everywhere. While Friday at the US Open was characterized by heat and high winds, Saturday's weather wasn't much more conducive to big ultimates, although for a different reason. The day started a little soggy with rain which delayed the start of the morning competition by two hours. When play resumed, surprising results left us with an unexpected bank of semi-finalists, including only two seeds. Let's see how these teams survived to the top four and how they fared in the penultimate round of the tournament.
PBR's undefeated run ends in semis
The No. 7 San Francisco Polar Bears started their tournament on a high, staging an upset to beat the No. 5 Minneapolis Drag'n Thrust on the first day in Blaine after the defending US Open champions1 suffocated in the second half of the game. The Californians also won by a large margin against Ames Chad Larson Experience and in their crossover match against local rivals Mischief to put them in a comfortable position in the group. Entering day two, they faced No. 12 Boston Slow in the quarterfinals. Early defensive pressure on Slow pushed them shallow, forcing hard-to-catch passes that often shot wide. With deep, solid play and a solid connection between handlers and cutters, they were able to stack the breaks and pull away for an ultimately comfortable 15-10 win.
San Francisco faced #6 Madison NOISE in the semifinals. They withstood the defensive pressure from NOISE well, making plenty of impressive saves that allowed them to retain possession, breaking twice in the first half to take a 6-4 lead against the Wisconsinites and eventually taking half 8 -7. But PBR struggled in the second frame, showing some weakness and returning five second-half breaks to NOISE to end their aspirations to win the first leg of the 2022 Triple Crown Tour.
"I feel like we were never freaked out, we just weren't connected on things. I feel really good," Polar Bears coach Daniel Naruo said. showing how good we are in our system, so if things aren't looking good, it's probably just because we're not in the right headspace and maybe diverging from that system. But when we're there, we're like clicks and like unstoppable.
Good wins, good times
As is their usual behavior, Minneapolis No Touching! came to have a good time. Their first tournament goal was to be the last seed and their second goal was to break that seed. Although they did not achieve the first objective,2 they even exceeded their own expectations with the way they smashed these.
Despite losing both of their pool games on Friday — to NOISE and Slow — the Minnesotans won their prequarter against Dallas Public Enemy, thanks in large part to their experience playing in the Winds of the Midwest. Then, in the drizzly quarter-final against No. 20 San Francisco Mischief on day two, the team once again showed they know how to succeed in their hometown weather. They played with the relaxed confidence that only a team whose average age is around 12 years older than the rest of the competition and didn't panic when Mischief took breaks because they knew they would get them back. Although they don't practice as a team, their goaltending warm-ups have allowed them to score well.
On their way to the semi-finals, No Touching! knew they had already done better than they expected – and, importantly for them, that they placed better than the other Minneapolis team here. However, their lax approach to the game was no match for the Philadelphia AMP No. 9 fierce style of play in the semifinals. The Minnesotans made the kind of execution mistakes the Philadelphia team didn't, and they couldn't match Amp's athleticism either. Although he fell big early and dragged the whole game, no contact! stayed positive and continued to have fun.
"There's no reason to put yourself down," said No Touching! Captain Jolien Munsterhuis. "We played well all weekend. We've come together as a team when we had to, won the games that mattered, and that's great.
Madison Hybrid NOISE Empowering Identity
Coming straight from their sixth-place finish at the WUCC, Madison NOISE was the only American representative at the world championships that are also competing this weekend.
Noticing how easy it is to play in a tournament and not feel tense or tired from playing for six straight days, NOISE outpaced their competition in pool play. They won against No Touching! with a comfortable lead — a blowout, really — and against Slow on a double play ball to escape a Bostonians comeback attempt. Winning their group, they headed to the cross bracket to play AMP for bracket placement, where they lost on another match that went to DGP. They came out prepared on the second day, however. The Wisconsinites took a solid lead early in their rematch with Slow. Pushing themselves to execute a tough defense, they only allowed Slow to score five points against them.
After their major victory in the quarter-finals, they decided to challenge themselves more and not let go of the throttle to help them succeed in the semi-finals. As they faced Polar Bears in the semi-finals, NOISE wanted to make sure they kept their energy and focus levels up throughout the game. One way they kept the energy up was through their secondary cheers, where they shouted a variety of noises and they kept things upbeat by assuming the Ann Arbor Hybrid identity.3. They nailed their game by using every player on the pitch, working hard on every point and challenging every pass high in the air.
Even if it has never gone so far in this tournament, NOISE will approach its final like any other match.
"Obviously we're going to start with a good warm-up, so we're going to be there and mentally in the game and we're going to trust each other," NOISE captain Emily Cohen said. "We are not going to succumb to the pressure of the final, because it is new for us. So I think we're just going to have fun and do what we've been doing for the rest of the tournament.
Philadelphia AMP lives up to the name
Philadelphia AMP had a crazy start to the tournament. They won from afar against Arizona Lawless in Pool, but lost by similar margins to Public Enemy. Despite the loss, they still won their pool match due to a points differential. They won at Universe Point against NOISE in their crossover and then played Drag'n Thrust in the quarter-finals. The game was tight for a while as both teams took turns leading. Even when they were trailing, AMP stuck to their systems and continued to keep the pressure on in the hopes that it would add up to big results in their end game. This added up as AMP was able to force a few too many turns at Drag'n and they qualified for the semi-final.
After the victory, as well as a six-hour break between games, the Philadelphians were boosted to enter the semifinals4. They knew they could pull off the deep punches of No Touching! and definitely won with their athleticism. They gained confidence in their shots throughout the game and connected on most, if not all, of their shots from deep with minimal pressure from the No Touching! defense. The AMP energy they added to the pitch showed they were coming to play and win. They did just that, showing the Minnesota team no mercy as they took advantage of every break chance they had for a 15-3 result.
"We often play on the energy of our opponents and I think we focused on that a lot and just in this game we didn't worry much about the other team," the AMP coach said. Ben Morganstern. "We held on until the end. Once we started riding it was easy to say excited. Sometimes with a big lead like that you can start to fall asleep a bit, but when you stay happy, rush down the field after every point, hold each other up, you have great turnout.