How Lightning eMotors Became America's Largest Commercial Electrification Company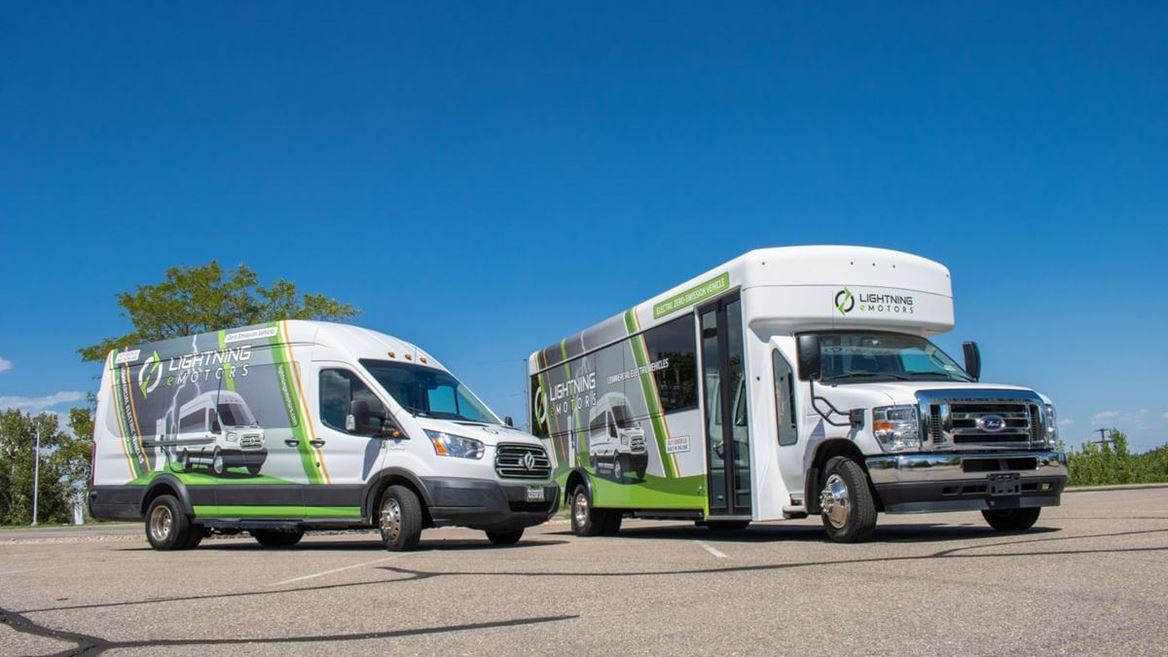 Lightning Day by Lightning eMotors, drew politicians, fleet buyers and thrill seekers to South Pasadena City Hall. This day proved that eMotors Lightning electric vans are ready for the road, easy to drive and ready to transform the industry. Roger Vartanian, Sales Director, Western US, spoke with Auto Futures at the event and explained why the company is successful in electrifying commercial vehicles.
Lightning eMotors background and last transformative use
I have heard of Lighting eMotors for a long time. It provided the ADA van for Perrone Robotics at CES, and in May announced a partnership to equip its vehicles with AV technology from Perrone, TONY. The company also supplied the powertrain for the Winnebago eRV.
This year, Lightning eMotors retrofitted existing fleets to electric vehicles, expanded its manufacturing facility, and partnered with GM to be the first GM Specialty Vehicle Manufacturer (SVM) to provide Class 3-6 all-electric utility vehicles. The company manufactures powertrains for transit vehicles, shuttles, box trucks, vans and cargo trucks.
At the event, it was announced that the Lighting eMotors ADA van will be used for a mobile crisis pilot program in the San Gabriel Valley, led by the City of South Pasadena.
"We believe this project will transform the entire industry in this area of ​​mobile emergency vans, medical vans, medical support vans and vans that help the elderly," said South Pasadena Mayor Michael Cacciotti. , who arrived by bicycle.
"When I go to the doctor, there are dozens of vans in medical enforcement services. There are thousands of these vans in LA County and millions in the United States. diesel or gasoline is that there are no emissions. You contribute to public health, the health of drivers and the reduction of our dependence on foreign oil," says Mayor Cacciotti.
South Pasadena and surrounding towns will deploy a Lighting eMotors electric crisis ADA van that will provide services to the homeless and those in crisis and drive them to the resources they need.
Local politicians and neighbors were invited to ride or drive the ZEV3-Ford Transit 350HD Cargo Van or the ZEV3-Ford Transit 350HD ADA Passenger Van.
Ride and Drive Passes Driving Tests
I drove the ZEV3 van. Because I've driven many electric cars, I knew how to press the gas pedal lightly. I found it maneuvered easily but required a little more pressure than driving most lighter EVs.
Then I went for a spin in the ZEV3 ADA van where a masked man, who looked like he thought he was a racing driver, decided to test instant torque on the deepest curve and steepest grade in town. . While I was screaming, "What's that crazy driver doing?" the man in front of me tightened his seat belt and shouted, "Buckle up!"
The van handled all the tests the crazed driver put it through until we got to City Hall safely.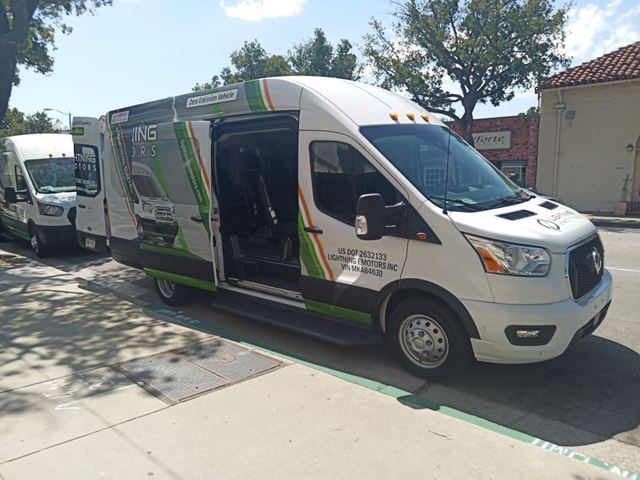 Lightning eMotors – History, Benefits & Education
Vartanian says Lightning eMotors was developed as a sustainable fleet company in 2009. But in 2017, founder Tim Reeser saw the future was in medium to heavy-duty electric utility vehicles with access to chassis and different platforms. -forms that the business could build on and that were readily available.
He explains that Lightning eMotors built its first powertrains for the transit platform, then expanded to the E-450 for shuttles, school buses, box trucks and vans. The F-550 platform is intended for shuttles and work trucks.
"We've taken the most popular platforms in the commercial truck space and developed electric powertrains on them. So we're the biggest or leading commercial electrification company in the country," says Vartanian, "We just to cross the 2 million customer mileage driven on our powertrains in July."
Performance-wise, electric vans offer much smoother acceleration. The regenerative braking program allows the vehicle to slow down more aggressively, so there is less use of the brake pedal. The driving experience is different from an ICE vehicle, reports Vartanian.
He sees education as the best way to inform fleet owners about electrification.
"We educate our customers to understand the range, payload and charging solutions that exist. More importantly, how to manage charging infrastructure and charging opportunities," says Vartanian.
"From a cost reduction perspective, we educate them to do what they want. It's about a 70% reduction in operating costs by running an electric vehicle on an ICE vehicle "They just need to figure out how they need to make certain changes to their business model to bring EVs into the fleet. It's not that hard. The technology and everything is there to do that," he adds. .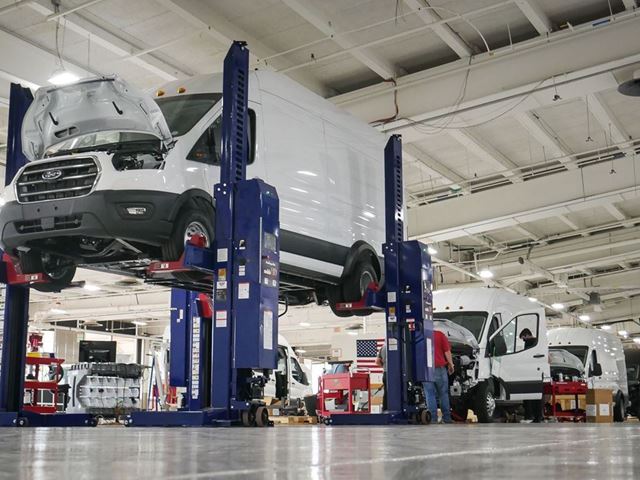 The Lightning eMotors separate assist arms
Lighting eMotors has a separate part of the company called Lightning Energy which provides Tier Two and Tier Three charging solutions.
"If a fleet is looking to electrify their vehicles, we can also supply them with the chargers they need for the infrastructure and the electricity has to be brought in by an electrician," Vartanian explains.
The analytics program provides all the data customers need for daily, weekly and monthly reporting, as well as real-time vehicle visibility.
"Our 4G system shows what is happening in the powertrain itself and in the charging system. If something is wrong, the customer is notified in advance."
"Everything eventually breaks down. But we can prevent it. We can fix it proactively because we can see if something is wrong before the operator knows. Then we have the service facilities to handle all the problems," he said.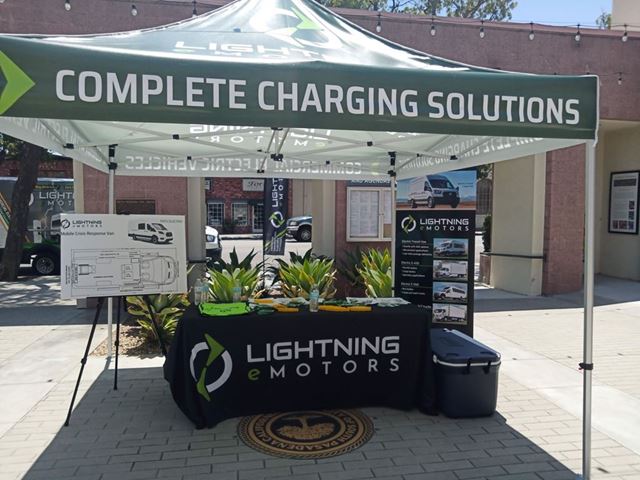 Why have a Lightning Day Ride & Drive?
I asked Vatarnian why the company was organizing this event.
"The main reason we run these events is for the ride and the driving. Everyone has something on paper. sell the It sells because we are building a powertrain for existing vehicle platforms," he replies.
The powertrain includes the engine, the drive motor and all the electrical components that go with it and the batteries, he says.
"People are amazed. The first person who drove the ADA van was one of the South Pasadena paratransit system drivers. He was blown away by the vehicle's smooth ride – the effectiveness of the regenerative braking and the power of the vehicle.. When he accelerated through the hills in this neighborhood, he noticed how smooth it was, he was in shock that this vehicle could perform so well.
Finally, I asked him about the crazy driver making me sweat even though the air conditioning was on full blast. Was this the right way to drive an eMotors ZEV3 ADA Lightning Van?
"Everyone drives differently. It could be how they normally drive. We offer an in-service program, Lightning Systems Training. We go out and show fleet operators how to use the vehicle properly and drive the vehicle properly because efficiency Battery life depends on how fast you accelerate and how well you brake. Really, the vehicle is designed to be a one-pedal driving experience. When done right, it drives smoothly," says -he.