Ford nearly doubles F-150 Lightning production capacity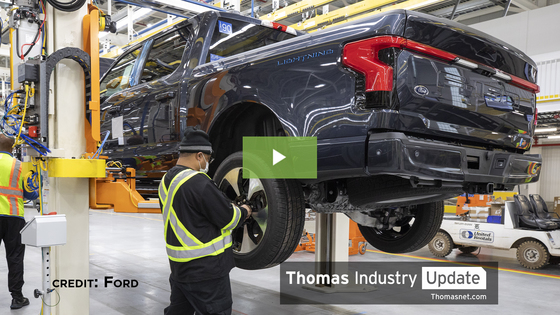 Welcome to Thomas Insights – every day we post the latest news and analysis to keep our readers up to date with what's happening in the industry. Sign up here to get the day's top stories straight to your inbox.
On January 4, Ford Motor Company announced plans to nearly double production of the F-150 Lightning electric pickup due to strong demand.
The automaker will increase capacity to 150,000 vehicles per year at the Rouge Electric Vehicle Center in Dearborn, Michigan. According to PA, Ford previously planned to build 80,000 a year at the new plant.
The electric F-150 is now in the final pre-production phase, entering real-world durability testing in preparation for deliveries starting in the spring. The company predicts a range of 300 miles per charge along with the ability to charge other vehicles, even competitors.
The same week it ramped up production, Ford also planned to start converting the first batch of Lightning reservation holders to orders.
According to Kumar Galhotra, group president of Americas and International Markets at Ford, the company has nearly 200,000 reservations for electric F-150s and is "working hard" to scale its operations.
While the production ramp-up will leave some reservation holders struggling, Ford adds they will be the first to receive a 2023 model. More than 75% of reservation holders are new to the brand, according to the company. Ford.
To make the increase a reality, the automaker assembled a task force made up of employees from manufacturing, product development, purchasing, strategy and capacity planning to find ways to increase production.
Ford is also working internally and with key suppliers to increase the capacity of critical electric vehicle components, such as battery cells, battery trays and electric drive systems.
It's not just the Lightning that's getting a production boost. Ford recently tripled Mustang Mach-E production following unexpected consumer demand and announced plans to bring the E-Transit electric van to market in early 2022.
In just two years, the company hopes to be able to manufacture 600,000 electric vehicles each year.
Image credit: Ford
Steel and Metal Supply Trends on the Rise Amid Tariff Negotiations
Next story »
More trade and industry