Biogen's new SMA awareness campaign in Spain shines a light on 'invisible' caregivers – Endpoints News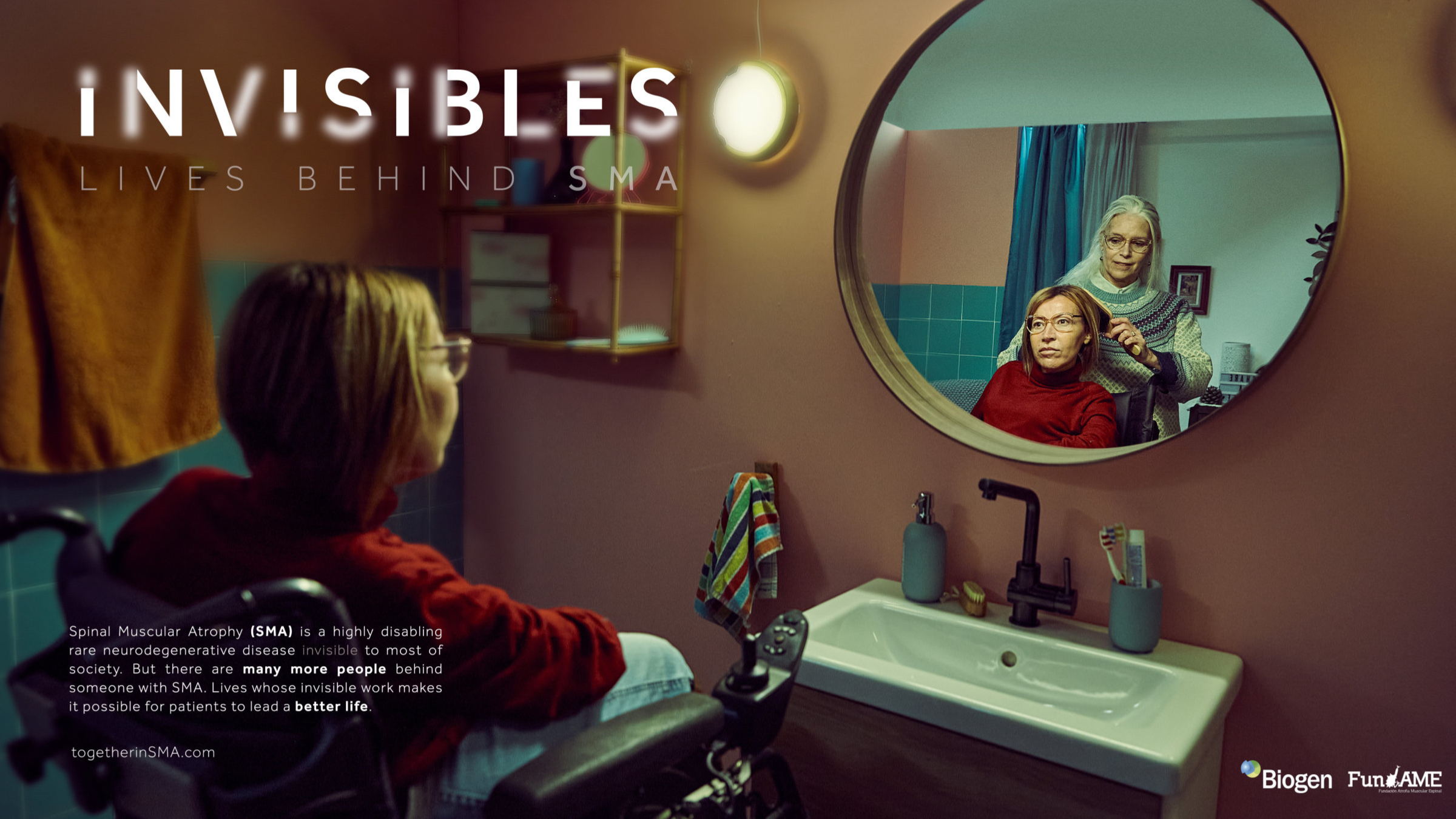 A mother brushes her young daughter's hair in the opening of Biogen's Spinal Muscular Atrophy (SMA) short. The girl is shown growing up, swinging in the garden, getting dressed and sitting at the breakfast table eating while an invisible hand pushes the swing, pulls a sweater right, whisks the eggs and cleans the dishes.
At the end of the video, the young woman sits in a wheelchair and has her hair brushed with the same invisible hand – until the camera pans to the mirror where her now older mother is visible, smiling while brushing.
The 'Invisibles' work, created by VMLY&R Health Spain, was launched earlier this summer to raise awareness of SMA in general, as efforts to add neonatal screening for SMA across Europe grow. A handful of countries, including Germany, Norway, Belgium and the Netherlands, now include SMA screening in newborn testing, while others are running pilot programs or just starting them.
Pilot screening programs are underway in Spain in Seville and Malaga, according to the European SMA NBS Alliance. SMA is a genetic neuromuscular disease that weakens and wastes muscles – an estimated 10,000 to 25,000 people in the United States live with SMA.
Biogen, in partnership with FundAME (Fundación Atrofia Muscular Espinal de España), a leading SMA advocacy group, contacted VMLY&R Health Spain to create an awareness campaign about the disease "to improve visibility and understanding" of the SMA.
"They wanted to show in a very emotional way what SMA is and explain that it is not a disease that not only affects the patient but also all the other people around the patient," said Natxo Díaz, Creative Director at VMLY&R Health Spain. .
The aim was to highlight the profound social, psychological and professional impact of SMA on the family and caregivers.
Díaz said the creative team initially planned to only use real SMA patients, but that was upended by the Covid pandemic and health precautions around in-person video shoots. Filming took place last November and ultimately included only one patient, the young woman in a wheelchair at the end of the spot.
However, Díaz said the campaign script had been changed to instead focus on a single patient shown throughout her life, and the major engagement of all the behind-the-scenes, but often unseen, care that is needed. resulting in an even better campaign – more than expected.
In addition to the short film video, print advertisements are running in professional publications in Spain, as well as social media, PR efforts and additional videos of patients, caregivers, doctors caring for patients with SMA, physiotherapists and more are available on the awareness campaign website. .
"We have a special affection for this campaign because it attempts to shine a light on a real and important cause," Díaz said in an email. "We believe it is really important to understand that a multidisciplinary approach to a disease like SMA is absolutely necessary to improve the lives of patients. And carers – and their unseen work – are key to getting it.
Although the campaign is unbranded, Biogen's portfolio includes Spinraza, which in 2016 became the first FDA-approved treatment for SMA. Since then, Novartis' Zolgensma was approved in 2019, followed by Roche's Evrysdi in 2020. Spinraza's global sales were $904 million for the first half of 2022, compared to $1.02 billion in the first half. 2021.