Bayview Catering simplifies event planning for parties, business meetings and celebrations
Yesou dream of a wedding reception or Christmas party with a kitchen that everyone will love. Bayview Catering Food Service Manager Kelly Young has 30 years of experience to help you make your plans a reality. She also has a good ear for listening to your thoughts and concerns. "People have caught up on memorials, weddings and reunions," says Kelly. Believe it or not, the holiday season is right around the corner. It's time to put your details in ink.
Bayview Catering offers full service options. It could be as little as picking up food from the store and taking it with you. It can be as elaborate as allowing Bayview caterers to set up your party venue, prepare and serve food, serve drinks, and clean up. Anything in between can also be solved.
Event Planning Done Right with Bayview Catering
Will your meeting be an intimate gathering with 20 friends or a big event with 200 guests? Bayview Catering can help. Kelly is happy to meet you in person or, at a minimum, have a phone conversation. Email works, but sometimes it's harder to capture the nuances of people's desires. Also, there are so many details that writing back and forth can end up taking longer. Clarity is important and you want it to be fair.
Here are Bayview Catering's tips for event planning:
Secure your site
Our community has many places that host parties, but popular places book up early and weekends fill up faster. If it's your home, making an appointment will be easier. Often, clubhouses or party venues can only accommodate one event per day. Fortunately, Bayview Catering can host multiple events on the same day. Nevertheless, identifying your date and location is essential.
make a budget
Now that you know how much your room costs, you can consider your other expenses. In addition to food, you can calculate rental costs like chairs and tables. How would you like to decorate? What kind of flowers would set the right mood? You will also decide whether to use real crockery and cutlery or disposables, which has an effect on the total cost. Celebrations partners with Bayview Catering and can help you meet these needs.
Food choices are plentiful
Bayview Catering has on hand menus for themed parties such as Hawaiian, Asian and Mexican. You can also create your own theme! Generally, all food is prepared and cooked offsite, but salmon, chicken, hamburgers and/or hot dogs can be grilled onsite. Maybe you have a simple affair with dessert platters and drinks. Maybe your party will be varied with appetizers and drinks. A sit-down dinner can involve everything from soup to nuts. It's a good idea to take this into account when preparing to meet Kelly.
Bayview's catering team will customize your menu to suit your budget and plan for any dietary considerations. Bring your dreams, recipe ideas and enthusiasm and let them build your amazing party.
Let Bayview Catering Reduce Your Event Planning Stress
You finally throw a party. With a caterer, you won't have to worry about what's on the fire, whether the stoves are being cooled and who's tidying up. Hot foods will be hot and cold foods will stay cold. Helpers can prepare drinks and cut cakes. This means you can focus on the people you're with and the reason for the party in the first place. There's nothing wrong with having fun at your own party. Who wants to do the dishes when the party's over? Bayview Catering will staff your event to do the work.
Book your event caterers early
It really is time to think about your next holiday gatherings. Bayview can be part of your Thanksgiving meal. Holiday meal trays can be a fun addition to a family gathering, giving you more time to watch football, visit relatives and relax. Kelly suggests booking parties at least three to four weeks in advance. Some days may fill up faster than others. Would you be surprised to know that Bayview already has reservations for next August? Don't panic, but don't wait too long.
Custom cakes at Thriftway are a sweet ending to any event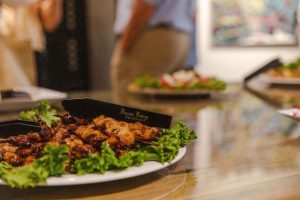 You'll have plenty of dessert options with Bayview Catering, but you can also order a cake from Classic Creations Cake Artistry and Design at Ralph's Savings. For me, there's nothing quite like a traditional white wedding cake (there are other choices too). Parties are made for you to have what you want. Eating together, celebrating, remembering and being together are things we have missed over the past two years. Let Bayview Catering be part of your meetings.
Bayview Catering is located inside Bayview Thriftway in downtown Olympia. You can also fill out a online form.
Bayview Catering
516 Fourth Avenue W, Olympia
360.357.8016
Sponsored